Meet Guardian.
Guardian is a system of Leak Detectors and a Valve Controller that work together to detect leaks and shut off your water automatically, preventing further damage. Guardian installs with no tools and no pipe cutting – simply install, connect, and protect.
VALVE CONTROLLER

No tools required
Use multiple Valve Controllers
Optional Battery Backup
Offline functionality

Learn More

LEAK DETECTOR

15-year battery life
Three points of leak detection
Long-range connectivity
Waterproof housing

Learn More

GUARDIAN APP

Remotely control your system
Receive notifications
Monitor multiple locations
Share your system

Learn More
21st Century Water Damage Prevention.
We invented Guardian after experiencing the devastating effects of water damage first hand and growing frustrated with the lack of smart leak prevention solutions on the market. Whatever did exist required professional installation or thousands of dollars in investment, making them inappropriate for most homeowners. Not anymore.
Protect your investment.
Guardian was designed from the ground up to allow all home and property owners to protect themselves from water damage. It's easy to install, quick to act, and capable of stopping most types of plumbing leaks dead in its tracks.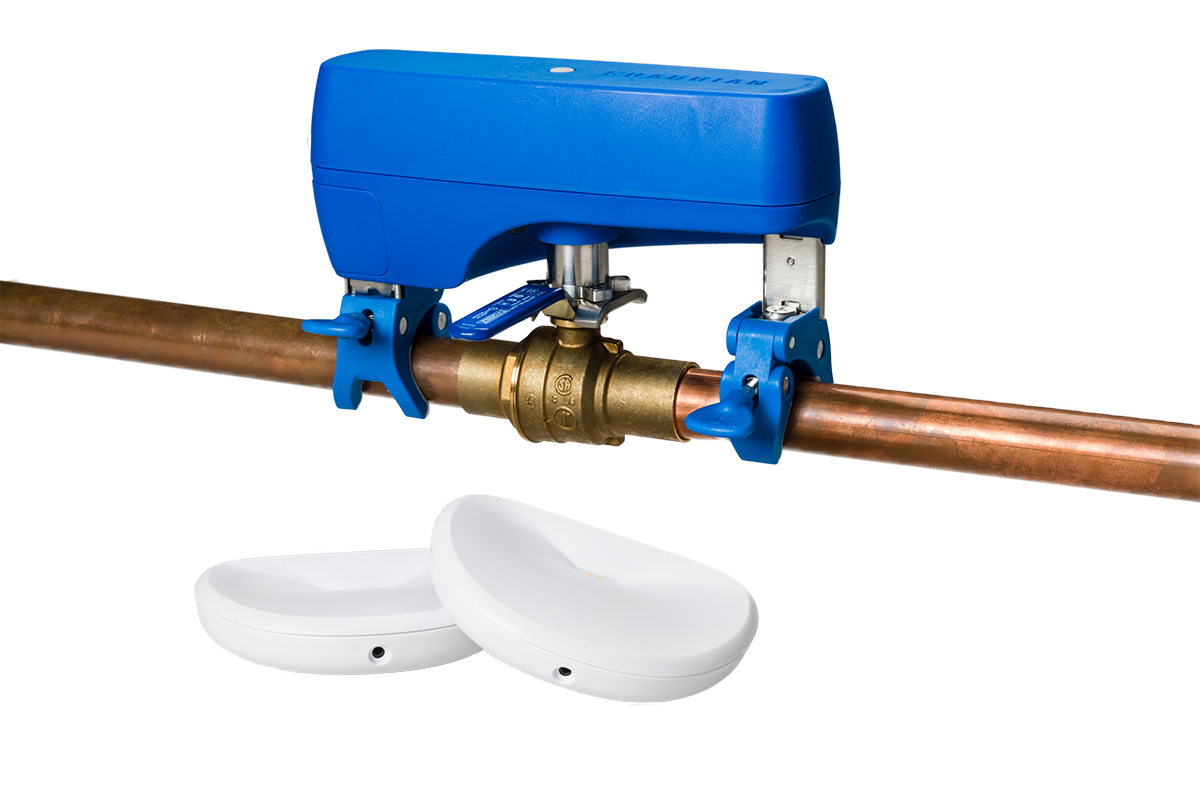 CONTROL REMOTELY

Open and close your water valve and check the status of your sensors from anywhere

AUTOMATIC SHUT-OFF

Guardian will automatically shut off your water supply if a leak is detected at your property
Get Started With Guardian
Customer Testimonials
This is a world class product and will set the bar for leak alert and damage prevention. From the efficient packaging to the flawless and simple set up, I'm sleeping better knowing the Guardian is installed and operating.
This system has saved me twice. Most recently with an under-sink valve leak at 2 am. The system shut off the water after less than a half cup of water leaked. The new app is great as it shows both my valve controller and will show my second house when that one is installed. My experience with customer service has been outstanding. Great product.
I really like the fact that this system is so easy to install, you just need a quarter turn ball valve and you are on your way! It takes care of itself, no hub to buy or set up, plus it will trigger and shut off the water even if you can't get the alert.
This system was easy to install and includes clear instructions. The clamps hold onto the water line very well and is able to open and close the valve as expected. The battery backup will enable the system to work during a power loss.
After one month of use, this system is working very well!
This product was easy to install and setup was a breeze. I am impressed how well it works and I am able to shut my water off to my unit without having to go outside to the power room to shut it off. I also have the added protection of the sensors to detect leaks and they monitor temperature as well. I would highly recommend this for a second home or your primary home.
The installation was very simple and instructions were great. I had it installed for 2 days then I got a message that I have a leak in the downstairs bathroom. I thought it was just a false alert. Got home to find that I did indeed have a leak by the toilet. Thankfully the Guardian detected a leak and saved my floor. Crazy this thing actually works. Thanks Guardian!
Guardian can save you money right now.
We've partnered with SmartInsure to offer you a $150 moneyback guarantee!