Welcome to the new Guardian.
See what to expect from the upcoming update to the Guardian Ecosystem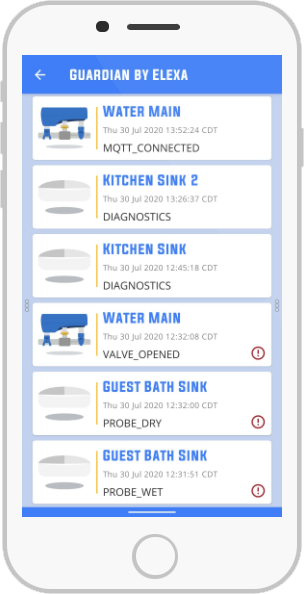 USE IN MULTIPLE LOCATIONS

Use Guardian in multiple locations and manage all of the devices using one app.

USE HUNDREDS OF DEVICES

You will be able to add as many Valve Controllers and hundreds of Leak Detectors to your leak prevention system as you need (previously, each location was limited to a single Valve Controller.)

REFINED PUSH NOTIFICATIONS

We overhauled our notifications system to live up to our customers' standards. Receive push notifications on Android and iOS phones during leaks and other events.

SIMPLIFIED USER EXPERIENCE

We improved the user experience, from the initial setup all the way to the moment disaster strikes. Configure devices faster than ever with our completely revamped (and continuously improving) provisioning process.
Out With the Old, In With the New
Rather than incrementally update our existing platform, we opted to recreate the entire ecosystem to not only introduce the features our users are asking for, but also to increase stability and handle scaling to millions of users. Along the way, we assembled a brand new team of developers to continuously grow and maintain the system for years to come.
The new app is available now in the App Store and Play Store.